Chiropractic Care
Chiropractors practice primarily using their hands, providing diagnosis, treatment and preventive care for disorders related to the spine, pelvis, nervous system and joints.
Chiropractors use a combination of treatments depending on the specific needs of the individual patient.
How Chiropractic Helps You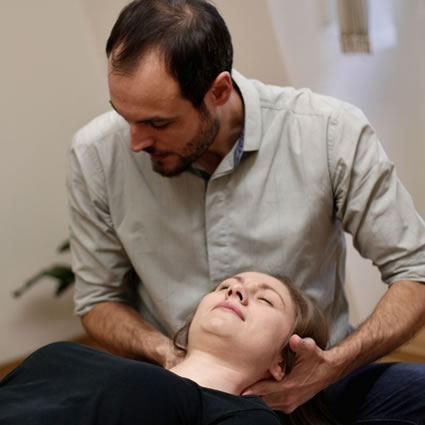 After taking a history, performing an examination and establishing a diagnosis, a chiropractor can develop and carry out a comprehensive treatment/management plan, recommend therapeutic exercise and other noninvasive therapies, and provide nutritional, dietary and lifestyle counseling.
Thiago will restore function to joints in the body that aren't aligned. When corrected, the function is returned to your body and it can heal.
Spinal Manipulative Therapy
One of the most common therapies a chiropractor uses is spinal manipulative therapy (SMT), which can comprise a variety of adjustment techniques. Specific training in SMT allows chiropractors to provide highly-skilled and precise adjustments to the vertebrae of the spine, correcting joint motion to restore proper movement and improve function.
Where other conditions exist, chiropractic care may complement or support medical or other treatment by relieving the musculoskeletal aspects associated with the condition.
There are seven benefits that people commonly experience from chiropractic:
Improved nervous system function
More restful sleep
Better posture
Greater spinal flexibility
Natural pain relief
Stronger immune function
Fewer hospital admissions and surgeries
Less need for medications
Thiago uses a range of different techniques to adjust based on your individual needs. His common methods include Diversified, Sacro Occipital Technique® and myofascial release. Your adjustment will be tailored to your condition and what is most appropriate for you.
---
Chiropractic Care | +420 774229892